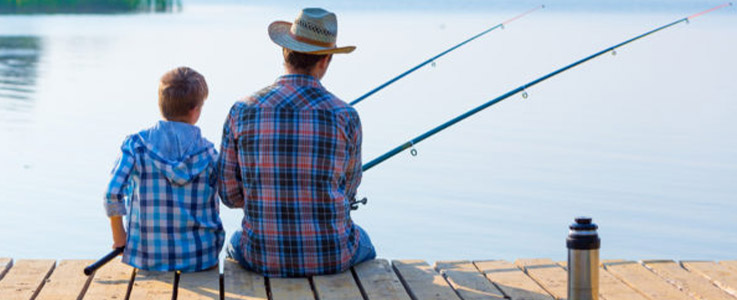 Fishing For A Safe Retirement
"Counting too much on catching the big fish can leave you hungry." Kevin Mahaffey
As avid fishermen, my sons and I sometimes get competitive and have a fishing derby to see who can catch the most as measured by weight. While we all have the same objective, we have different approaches: live bait/worms vs. different kinds and colors of lures, the depth of water we fish in, and how we work the line. My sons, being younger, are attracted to the thrill of casting out to the deeper waters using various lures for big fish. Being more conservative, I usually opt for the more consistent approach using the tried-and-true worms and bobber method, staying closer to the shore.
So, who's approach is better, and what does this have to do with retirement? If you are approaching retirement, you may want to think about how your assets are positioned. Are you taking on unnecessary risk pursuing the "big fish," or does it make sense to reduce some of your risk and protect a portion of your retirement funds, opting for more consistency and stability?
While both fishing methods can provide good results, I'd like to think that my safe approach wins more often over time. And if we were counting on catching fish to eat (we catch and release), here's a way to think about fishing as a metaphor for retirement planning: the "deep water/big fish" approach can be likened to the stock market. You can catch some big fish (strong market returns), but they aren't guaranteed, and there are many unknowns. Occasionally you'll catch that lunker, but there are some risks. It can be challenging to know what's out in the deep waters, what depth the fish are swimming, and what type and color lure the fish are attracted to that day. Some days you may not catch any fish, and it's possible you can get snagged on logs you can't see, lose your expensive lures, and have to re-tool your whole line.
Like the "deep water/big fish" approach, there are risks with the stock market. Economic conditions can change abruptly, or a catastrophic event can occur quickly, as experienced in the dot.com bubble in 2000, the financial crisis of 2008, and the Covid-19 pandemic. Events like these as you are approaching or are in retirement with losses in the range of 30% – 50% can dramatically affect when you can retire or your lifestyle. And worst case, if you are counting on catching big fish when you need to eat, i.e., in retirement, fishing in the deep water for big fish can come up empty, thus leaving you hungry, i.e., not enough funds in retirement.
The "close to shore with worms" approach can be likened to the safe money retirement approach using financial vehicles with guarantees such as annuities. The fish may be smaller – market returns – but the catches will be more consistent over time and provide guarantees of not losing expensive lures or retirement funds. And just like you may occasionally catch that lunker that ventures close to shore, vehicles such as fixed index annuities (FIA) still provide the opportunity to earn significant returns.
FIAs tied to market indexes will share in the gains of those indexes and are guaranteed not to lose money if the indexes go down. In addition, FIAs can provide options for legacy planning (enhanced death benefits to loved ones), long-term care, and setting up lifetime income which can provide assurance that you will never run out of money. Imagine going fishing and a certain number of fish jump into your net automatically every trip without even requiring you to cast your line. While this may not provide the fishing fun you're after, you will certainly be assured of consistently eating well!
Financial advisors advocate for having a balanced investment portfolio by diversifying investments among different stocks and asset classes (stocks, bonds, commodities, cash, etc.). In retirement, it also makes sense to diversify your approach with a blend of risk/reward and safety/guarantees. Like the fishing analogy, including a safe money approach to your retirement plan will allow you to catch fish consistently while still having the opportunity to go for that trophy fish! Talk to a financial professional about how a safe money approach can be incorporated into a comprehensive retirement plan that blends the best of both approaches.