Angie Politarhos Honored With Esteemed Invitation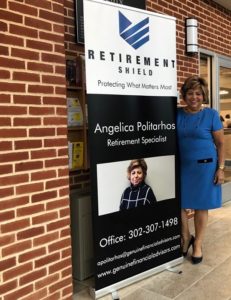 Angie Politarhos of Wilmington, Delaware, has accepted an invitation to become an "Invited Author" on the financial website, https://annuity.com. Angie now joins an elite group of financial experts who share information about approaching retirement without market risk by authoring meaningful and useful articles focused on those retired or about to retire.
Angie has been self-employed most of her life.  She owned a restaurant, which she then sold and purchased a coffee distribution company.  She took this company from a one-person operation to a multi-million dollar company, which she sold 30 years later to a huge conglomerate.  After selling the company, her husband became ill, and this brought her an immediate understanding of the financial urgency that a critical health diagnosis creates.  Angie has a unique perspective on educating her clients as she focuses on individual needs and potential concerns. Her goal is to assist them not only with their financial well-being but help them manage the risk against life's unforeseen events.
Learn More about Angie:
apolitarhos@genuinefinancialadvisors.com
501 Silverside Road Suite 31 Wilmington, DE 19809
(302)307-1498 | (610) 656-2942
www.genuinefinancialadvisors.com

Annuity.com has a simple mission. Educate people about annuities and help them determine whether an annuity is right for their retirement portfolios. We provide unbiased information on a multitude of topics needed to make optimal decisions for our own specific needs. Because we are not an insurance company, we have been able to remain a consumer-focused site, providing timely, objective, and quality information since 1995.